West Cheshire children's home hospital service closure criticised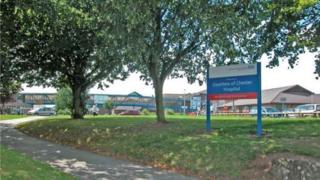 Parents have criticised plans to close a service which allows sick children in west Cheshire to receive medical treatment at home.
The Countess of Chester's 'Children's Hospital at Home' service will be discontinued at the end of April.
Managers have been told the decision will be a "devastating loss" and have a "disastrous impact on families".
NHS commissioners said savings due from the scheme "have not been realised".
The service sees medical staff travelling to patients' homes to administer treatment and help with long term care.
Shadow health minister and Ellesmere Port MP Justin Madders said he was "very concerned" by the decision, asking for it to be "paused until both a full consultation and an impact assessment have been carried out".
A petition criticising the decision has so far been signed by nearly 5,000 people.
Parents of children who have used the service have been responding to the news since it was first reported by the Chester Chronicle last week.
---
What the parents say
Siobhan Williams used the Children's Hospital at Home service when her two-year-old son Oliver was born prematurely. She told BBC Radio Merseyside the service "enabled us to bring him home and gave us the confidence to care for a very poorly child."
"It frees up (hospital) beds and keeps him away from hospital because he has a very vulnerable immune system. I just don't understand why it's not a win-win situation for everyone."
The service is helping Claire McKelvey's son Max after he was diagnosed with a brain tumour in January. She said "Without the service we would be at an absolute loss. It's absolutely devastating. It would mean more admissions into hospital."
"It's just a huge devastating loss for us not be able to have the quality of life at home for Max."
---
The Children's Hospital at Home scheme was introduced as a pilot in 2012 to "improve quality outcomes for children and families" as well as make savings in "avoidable hospital admissions, readmissions and reduced lengths of stay".
It received funding for three years from April 2013.
A West Cheshire Clinical Commissioning Group spokesman said: "It was clear from the outset that the expectation was that the Trust would make the necessary adjustments to sustain the service beyond April 2016.
"Regrettably, the outcome of the pilot is that the anticipated savings have not been realised."
The commissioning group needs to make £11.5m of savings to its budgets by April 2017, after registering overspends over the last financial year.