Cannabis farm worth £2.8m found in Allerton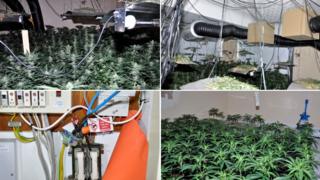 A cannabis farm with an estimated street value of £2.8m has been uncovered at a property in Liverpool following an attempted burglary nearby.
Police found 719 plants at the house in Mather Avenue, Allerton, on 24 March after responding to a resident's reports of a break-in in Burnham Road.
No arrests have been made over the drugs find at the rented property, police said.
Three men aged 19, 22, and 31 have been arrested on suspicion of burglary.
The cannabis farm, which stretched over five rooms, was discovered by officers returning to the scene of the burglary.
Sgt Angie Norstrom said the plants were a "very large and profitable cannabis factory right in the heart of suburban Liverpool".
The arrested men have been released on bail pending further inquiries.