Fiddler's Ferry coal plant to stay open until March 2017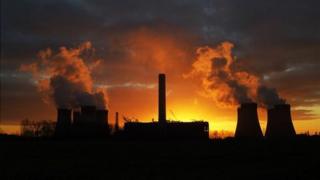 A coal-fired power plant earmarked for closure will remain open until March 2017, its owner SSE has announced.
The decision was made on Wednesday after a contract was secured by Fiddler's Ferry in Widnes, Cheshire, to provide "ancillary services" to the National Grid.
The company previously said three of the four turbines would close by April.
The one-year contract covers one of three available units at the site, which employs 213 people.
Two other units will remain "online" as SSE seeks to enter the station's capacity into market auctions.
The fourth turbine will be unaffected as it has a contract to provide "services to the electricity system" over winter 2016.
Martin Pibworth, from SSE, said the long-term future of the site "remains uncertain" but the firm was "pleased" to secure a 12-month contract, which starts on 1 April.
The 45-year-old plant has been loss-making for two years and in November the government announced the permanent closure of all coal-fired power plants by 2025 as part of plans to lower carbon emissions from the electricity sector.
The site provides two gigawatts of power to the north-west of England, which is enough to supply about two million homes with electricity.
A consultation with staff and stakeholders is ongoing, the firm said.