Chester rough sleeping ban scrapped after backlash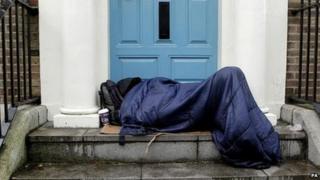 Plans to outlaw rough sleeping and ban busking without a licence in Chester have been abandoned by councillors.
Cheshire West and Chester Council's cabinet agreed to amend its proposed Public Space Protection Order (PSPO) following heavy criticism.
Homeless people and musicians rallied against the plan, which could have seen £1,000 fines levied for non-compliance.
Drinking alcohol, urinating and using legal highs, however, will all still be banned in public spaces.
Human rights group Liberty threatened legal action over the idea to ban rough sleeping, whilst campaigners marched through the city's streets wearing pyjamas.
PSPOs were introduced under the Anti-Social Behaviour, Crime and Policing Act in 2014.
Government guidance said PSPOs were intended to deal with issues in certain areas that are "detrimental to the local community's quality of life, by imposing conditions on the use of that area which apply to everyone".
---
Activities to be "controlled and restricted" by Chester's Public Space Protection Order
Using so-called 'legal highs'
Drinking alcohol outside licensed premises
Urinating (except in public toilets)
Activities removed from Chester's proposed Public Space Protection Order
Rough sleeping
Unauthorised busking
Begging
Feeding birds
---
The leader of the council's opposition Conservative group, Mike Jones, claimed the Labour-led council had made a "u-turn" because some of the plans amounted to "an attack on the homeless, and an attack on buskers".
Labour's Nicole Meardon denied the council was trying to "criminalise" homeless people.
She told a meeting of the council's cabinet: "There wasn't a u-turn - this is about consultation.
"These are issues that really do impact on people's quality of life."