PC Dave Phillips murder trial: Accused 'used cannabis age six'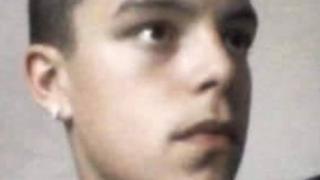 A teenager accused of deliberately running over and killing a police officer has been a cannabis user since the age of six, a court has heard.
Father-of-two PC Dave Phillips, 34, died when he was hit by a pick-up truck in Wallasey, Wirral, in October.
Clayton Williams, 19, had been buying drugs and had smoked a "spliff" before stealing the Mitsubishi truck, Manchester Crown Court heard.
Mr Williams denies murder and claims he did not intend to injure the officer.
In police interviews, he told officers he suffered "bad memory loss" and "smoked a lot of weed".
The court heard he had been out of jail for three weeks after another police pursuit when he crashed into a lamp post.
On the night of the crash, he claimed the drugs may have slowed his reactions when he ran over PC Phillips during an 80 mph police chase.
The officer had been deploying a "stinger" device to puncture the truck's tyres, but stood "no chance" when the vehicle hit him, the court heard.
'Felt sick'
When he was arrested, Mr Williams told police he had burgled Oxton Estates in Birkenhead, which he came across while walking back from buying "some weed".
During the burglary, jurors heard, he saw the keys to the Mitsubushi on a desk and stole the vehicle.
In the first of three prepared statements, he said he did not see PC Phillips until he was "almost on the spikes".
He continued: "I thought and knew I had injured him. I did not realise I had killed him. I saw it on the news and I felt sick.
"I felt devastated for what I had done to the officer and the great pain and suffering I have caused his family.
"I did not intend to kill PC Phillips. I fully accept I am responsible for his death [due] to the manner of my driving."
Giving evidence from the witness box, the teenager told the jury of a telephone conversation with his grandmother, Shirley Williams, made less than a minute after the collision.
"She's like, 'What are you like? You have not been out of jail three weeks, not even that'," he told the jury.
He said his grandmother added: "You are silly aren't you? You can't stay out long."
Ian Unsworth QC, prosecuting, asked the defendant: "Why not simply stop?"
Mr Williams replied: "It's just adrenaline you get when you get behind the wheel.
"On my last sentence I was in a pursuit for less than 10 minutes and crashed into a lamp post. I just panicked, like scared."
Mr Unsworth continued: "And would you do anything not to go back to jail?"
"Yeh," he replied.
Earlier, pathologist Dr Brian Rodgers said PC Phillips would have died "pretty much instantly" after being hit by the truck.
The teenager has admitted a charge of burglary and aggravated vehicle taking.
He denies murder, and also denies a second count of attempting to inflict grievous bodily harm with intent in relation to PC Thomas Birkett, 23, who had to dive out of the way after PC Phillips was hit.
A second man, Philip Stuart, 30, who was the passenger in the truck, has admitted burglary and aggravated vehicle taking, by being allowed to be carried in the Mitsubishi.
The trial continues.