John Lennon's boyhood stamp collection displayed in New York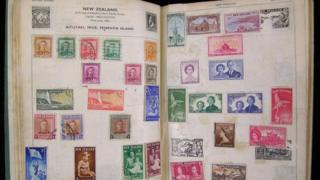 John Lennon's boyhood stamp collection is to go on display at the World Stamp Show in New York.
Rolling Stone magazine reports the Beatles' singer started his collection when a relative handed down a half-filled book of collectors' stamps.
It features images of Queen Victoria and King George VI with a moustache and beard drawn on them.
The collection also includes US and New Zealand postage stamps collected by Lennon in later life.
The World Stamp Show, which is only held once every 10 years, runs at the Javits Center from 28 May until 4 June and is expected to attract 250,000 visitors.
Interest in Beatles memorabilia continues to grow every year as the band's songs become increasingly popular in Brazil and China alongside the more established fan bases in Europe and the US.
---
Beatles record sale
An extremely rare and valuable Beatles record that has been in a loft for decades is to be auctioned this month.
Described as "a Holy Grail item", the 1962 10-inch record of Till There Was You and Hello Little Girl lay forgotten in the home of Les Maguire of Liverpool band Gerry and the Pacemakers since the 1960s.
The acetate bears the handwriting of the Fab Four's manager Brian Epstein, who played the demo disc to legendary Beatles producer George Martin as he tried to secure a record contract for the band.
Lennon's hair sells for £24,000
On 20 February a lock of John Lennon's hair that was cut off as he prepared for a film role sold at auction for $35,000 (£24,298).
The four-inch piece of hair was bought by UK collector Paul Fraser at an auction in Dallas, Texas.
A German hairdresser kept the hair after giving him a trim before the star began filming the 1967 comedy, How I Won the War.
Fab Four worth £82m to Liverpool
In February it was reported the legacy of The Beatles adds nearly £82m to the Liverpool economy each year according to research.
The band's impact also supports 2,335 jobs in the city, claims the report commissioned by Liverpool City Council.
Professor Simeon Yates, who was lead author, said the city needed to "maintain standards" to boost tourism.