Lewis Dunne: Further arrest over shooting of boy, 16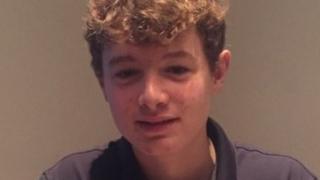 A man has been arrested on suspicion of murdering a teenage boy who was shot dead in Liverpool - the seventh arrest in three days.
Lewis Dunne, 16, who was found near Burrows Court in Vauxhall on 15 November, had been shot in the back.
A 25-year-old man from Walton has been arrested, two days after police said six people were being questioned in connection with the killing.
In January police found a shotgun while searching the Leeds Liverpool canal.
The latest arrested man has been taken to a police station for questioning.
Two of the six arrested on Wednesday remain in custody, while four have been released on bail.
Five of the six were held on suspicion of murder, while one was being questioned on suspicion of assisting an offender.
Four other men who were arrested in December were also bailed pending further inquiries.