YMCA Warrington to close as council ends contract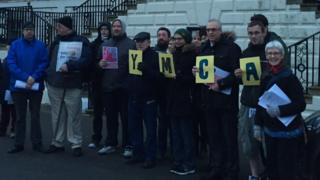 Warrington's 160-year-old YMCA is expected to close in three months' time after losing a major council contract.
The Cheshire town's borough council is reviewing its funding as part of a move to save £21m.
The YMCA provides accommodation and advice for the homeless and vulnerable people but these will instead be delivered by other providers, said a spokesman.
The charity said losing its £38,000 funding would have a "huge" impact.
Centre manager Susan Blyth said they could not safely help vulnerable people in the town without staff financed by Warrington Borough Council.
"Services we provide both day and night will not be here.
"Our service users have a right for a good service, and it's important that we continue to fight to give them a voice."
One woman who used the YMCA on Winmarleigh Street when she was homeless said: "If [it] gets shut down where are people going to go?
"There's nothing around here like the YMCA."
Councillor Russ Bowden, responsible for finance at the Labour-led authority, said the council would "signpost those vulnerable people to the new service providers".
He added: "Warrington YMCA is a valuable part of the fabric of Warrington. We can look at ways in which the council can continue to support them.
"We would obviously want the YMCA to exist."