Gayle Leahair jailed for four years for magazine fraud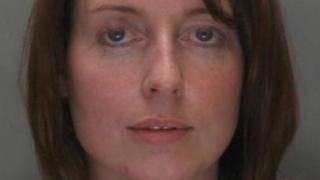 A woman has been jailed for four years for her role in a £5.2m magazine scam which duped up to 15,000 victims.
Gayle Leahair, 41, from Rainhill, Merseyside, was operations manager for a team which conned firms into buying adverts in a bogus magazine.
The man behind the Liverpool-based scam, George Williams, 51, was jailed for seven years in January.
Four other men were also sentenced on the same day as Williams at Liverpool Crown Court.
Leahair, of Warrington Road, who was jailed on Thursday, was convicted with Williams in December of conspiracy to commit fraud by false representation and fraudulent trading.
The court had been told they produced a publication called "Emergency Services News" from an office in Dale Street.
They should have produced about 1.2m copies to fulfil their promises to clients but instead police found they only printed 30,000 copies.
The defendants, who called themselves Weinstein Williams Associates Ltd, were found to have falsely claimed that they worked for the emergency services.