Milestone campaign marks Leeds & Liverpool Canal bicentenary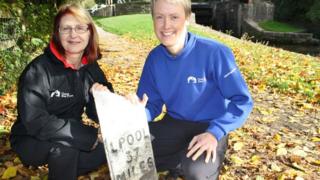 The Leeds & Liverpool Canal bicentenary is being marked with a campaign to restore or replace missing mileposts along its 127 mile (204 km) route.
Although the canal is 200 years old, the original cast iron mile markers date back to the 1890s.
They were installed as a response to legislation introduced to regulate canal freight tolls in 1893.
A recent survey of the trans-Pennine canal found about a third of the original posts were missing or damaged.
The Railway and Canal Rates, Tolls and Charges Order of 1893 prompted the whole of the canal to be re-surveyed and new mileposts, along with half and quarter mileposts, installed along the towpaths.
Chantelle Seaborn, local waterway manager with the Canal & River Trust, said: "The restoration of this first mile marker on the Lancashire side of the canal marks the start of a tremendous heritage project.
"We are very excited to work with local communities who want to be involved."
---
Leeds & Liverpool Canal
It links the cities of Liverpool and Leeds and is the longest canal in Britain built as a single waterway at 127 miles (204 km) and was completed in 1816
From Liverpool the canal passes through East Lancashire and then crosses Pennine countryside and villages on the edge of the Yorkshire Dales before reaching Leeds
The canal's most important cargo was coal, with the last cargo of coal being carried along the Leigh Branch to Wigan Power Station in 1972
Traffic began to dwindle with the introduction of natural gas and subsequent closure of the canalside collieries
The Ribble Link, which opened in 2002, allows the canal to connect with the Lancaster Canal
Following the £22m creation of the Liverpool Canal Link, the Leeds & Liverpool Canal now extends into Liverpool's Albert Dock
Source: Canal & River Trust
---