Mary Sanchez: Nurse cautioned over fatal drugs error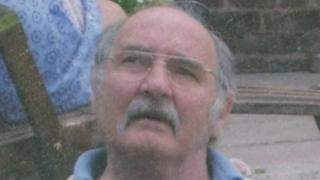 A nurse who mistakenly gave a patient a day's dosage of drugs in little over an hour has been cautioned.
Colin Whalley, 68, died in 2011, three days after admission to a Merseyside hospital with breathing problems.
Nurse Mary Sanchez admitted she failed to administer aminophylline, a drug used to open constricted airways, "in line with the prescription".
The Nursing and Midwifery Council misconduct hearing in London said she could still practise as a nurse.
The caution order will be removed from her record after a year.
'Genuine remorse'
Mr Whalley, who had Chronic Obstructive Pulmonary Disease (COPD), was admitted to Whiston Hospital, in November 2011 and should have been given two doses of aminophylline - one undiluted over a 20-minute period and a second, in diluted form, over 24 hours.
The second dose was incorrectly administered undiluted in little more than an hour, the four-day hearing was told.
The panel accepted Ms Sanchez's "genuine remorse" and apology to Mr Whalley's family but found her current fitness to practice remains impaired by the misconduct.
It was "not entirely satisfied" she fully understood how her errors happened or identified clearly what went wrong.
Ms Sanchez was still "clearly confused as to how much medication was contained in each of the syringes" and whether or not their content included diluent, it said.
The panel concluded Ms Sanchez "failed to demonstrate a full and clear understanding" of her failure and how she would avoid it in future.
Her colleague Carmel Pendleton, who acted as a "second checker", was alleged to have failed to ensure the medication would be administered over a 24-hour period.
The panel found Ms Pendleton's current fitness to practice was not impaired even though she admitted misconduct.
It ruled she had shown "deep reflection and sufficiently developed insight" since the incident.
St Helens and Knowsley Teaching Hospitals NHS Trust apologised to his Mr Whalley's widow Norma in November 2013.