Elm House pub remains closed after Liverpool petrol bomb disturbance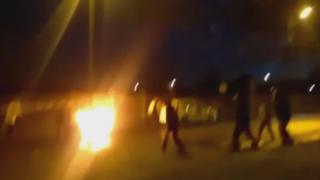 A pub in Liverpool must remain closed while a petrol bomb attack on four police officers is investigated.
The Elm House pub in Townsend Lane was issued with a closure order on 6 February over concerns about suspected drug dealing and anti-social behaviour.
Liverpool Licensing Committee granted the two-month closure order.
Nine men and five women were arrested after the attack outside the Dockers Club in Townsend Lane, Anfield, on 2 February.
The four officers were treated for minor burns.