Cilla Black leaves £15.2m UK fortune to sons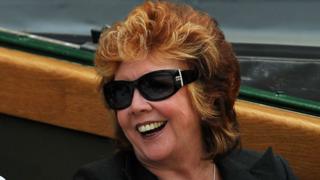 Singer and TV star Cilla Black has left more than £15.2m of her UK estate to her sons, according to her will.
The Liverpool-born performer died of a stroke aged 72 after a fall at her Spanish villa last year.
The beneficiaries are listed as her children Robert, Ben and Jack Willis with a further £20,000 left to Penelope Walker, understood to have been her long-standing housekeeper.
Black's husband Bobby Willis died of cancer in 1999 and she never remarried.
Born Priscilla Maria Veronica White, she found fame in the 1960s before becoming a TV host.
The former Blind Date and Surprise! Surprise! presenter was sunbathing when she lost her balance, fell and hit her head, which knocked her unconscious on 1 August.
She was buried in Liverpool on 20 August following a service at St Mary's Church in the Liverpool suburb of Woolton.