Bid to recover £200k Upton anti-fracking site eviction costs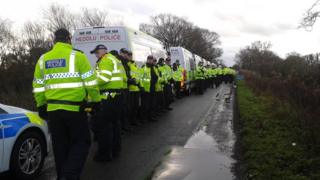 A bid to recover Cheshire Police's £200,000 costs to help evict protesters from an anti-fracking camp has been launched.
Campaigners set up camp at Upton, near Chester, in April 2014 to prevent testing by energy company IGas.
Cheshire's Police and Crime Commissioner John Dwyer is writing to IGas seeking the costs of the police operation after January's eviction.
IGas has since left the site but said protesters were there "illegally".
"It is a matter for the local police authority to assess the policing requirements needed to support the eviction process," the firm said.
Cheshire Police said 12 people were removed from the site in a "difficult and challenging policing operation".
IGas decided to withdraw from the site only three weeks after the operation to remove protesters took place in January.
It had carried out a "seismic acquisition programme" on a 42 sq mile (110 sq km) area, which includes the site at Duttons Lane, between September and November.
Mr Dwyer said: "I'm outraged, frankly, that IGas have managed to take this decision so shortly after choosing to enforce the eviction.
"I will now be writing to the directors of the company to set out my unhappiness at the approach they have taken, and to demand that the cost of the police operation, which could have been avoided, is repaid."