Jobs under threat at Fiddler's Ferry Power station in Widnes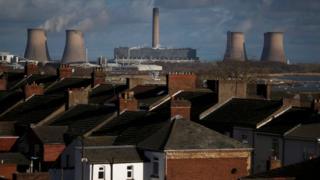 Jobs are under threat at a 45-year-old Cheshire power station after plans were announced to close three of the plant's turbines.
Energy company SSE said it expects three of the four turbines at Fiddler's Ferry Power Station to close by April.
The ageing coal-fired plant in Widnes employs 213 people, and a statement from SSE said the firm could not rule out compulsory redundancies.
A consultation with staff and stakeholders has begun, the firm said.
SSE said it had taken the "difficult step" due to "continuing challenging economic and environmental conditions for coal as the UK moves towards a cleaner mix of electricity generation".
However, the fourth turbine will be unaffected as it has a contract to provide "services to the electricity system" over winter 2016.
'Out of date'
The firm said it would seek to avoid but "cannot rule out" some compulsory redundancies.
Some staff could be redeployed elsewhere in the company, the statement said.
Paul Smith, a director at SSE, said the power station had made a "big contribution" to the UK's energy supplies for more than 45 years, but the economic realities of running the ageing plant at a loss "could no longer be ignored".
"We are fully aware of the impact this will have on our colleagues, their families, and the community and our priority is to support staff during the consultation process," he said.
"The reality is the station is aging, its method of generating electricity is being rendered out of date and it has been and is expected to continue to be loss-making in the years ahead."