Anthony Walker murder: 'Racist' killer's sentence cut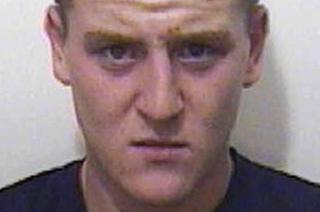 A man jailed for the racially-motivated murder of a teenager has had his sentence reduced by a year.
Michael Barton, 27, was given a life sentence for his part in the killing of 18-year-old Anthony Walker in 2005.
Reducing Barton's original 18-year tariff, Mr Justice Mitting said his "remarkable" transformation in prison satisfied the "high threshold" for a reduction in his minimum term.
Anthony Walker's mother said the cut "dishonoured" her son's memory.
Barton and cousin Paul Taylor were jailed for Mr Walker's murder.
Both men went on the run after the killing and Barton's brother, footballer Joey Barton, appealed for their return.
The pair had racially abused the teenager at a bus stop before they ambushed him near McGoldrick Park in Huyton, Merseyside, in July 2005.
'Reformed racist thug'
Barton, then 17, denied the killing after his arrest and at trial, but has since accepted his role in the offence. Taylor pleaded guilty.
Mr Justice Mitting said a blunt summary of a post sentence evaluation was that Barton, was "a racist thug".
A member of a gang, the judge said "violence was routinely deployed" by Barton and other gang members.
However, the judge said, there had been a remarkable transformation of his outlook and conduct, and Barton's offender supervisor Julie Hill had said she would not hesitate to urge consideration of a tariff reduction.
'Deeply betrayed'
The judge ruled: "His transformation from a racist thug into the sensible realistic young man described by Ms Hill satisfies the high threshold for a reduction in the minimum term imposed by a sentencing judge on a young offender."
Anthony Walker's mother Gee said: "It is a big let-down. I'm very disappointed and I feel deeply betrayed."
She said she believed Michael Barton was "playing a game" and "pretending to be good", adding: "This decision to cut his minimum sentence does not make any sense and it dishonours Anthony's memory... It is utterly wrong."