Liverpool City Region plan targets 'drivers of child poverty'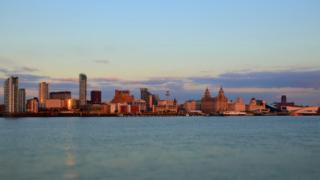 A plan to help Merseyside children and "address not only the symptoms, but the drivers of poverty" has been launched.
The three-year strategy will see the Liverpool City Region Child Poverty and Life Chances Commission examine how local funding can best help children become "school ready".
It will also address child hunger and health inequalities and support school leavers, a spokeswoman said.
Birkenhead MP Frank Field said it would help give children "the best start".
See more updates on this and other stories from across Merseyside
The report states the devolution of more powers to the region, which was ratified in November, presents "a powerful opportunity to... change the way services are delivered to improve the lives of families".
---
Merseyside child poverty
82,205 children in the Liverpool City Region live in poverty (25.6% of all children)
Child poverty levels in the area are higher than England as a whole (18.6%) and are the highest in the North
76% of children living in poverty live in a single-parent family
Almost a third of children living in poverty are five or younger
Source: Liverpool City Region Child Poverty and Life Chances Commission
---
Mr Field, who chairs the commission and has campaigned on the issue of child poverty, said: "We know that we can only tackle this issue if we work together, sharing resources, knowledge and best practice.
"Through our work, we want to ensure that children have the very best start in life which will ultimately improve their life chances as they develop into adulthood."
Established in 2011, the commission includes representatives from the Liverpool City Region's local authorities, police, health authorities and education and transport providers.
The spokeswoman said it had previously "been instrumental in campaigning for a Living Wage, a fairer deal on energy bills, implementing a minimum unit price on alcohol, making local transport more affordable, maximizing immunisation rates and combating smoking during pregnancy".