Reward offered over 'broken bones' dog 'dumped' in Birkenhead cemetery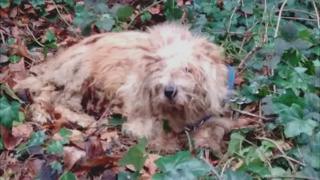 An animal charity has offered a reward of up to £10,000 to help find the person who abandoned a dog in a Birkenhead cemetery.
The pet, named Elmo by veterinary staff, had been so badly treated every bone in his body had been broken.
He was found in Prenton on Saturday and was later put down.
People for the Ethical Treatment of Animals (Peta) is offering a reward for information leading to an arrest and conviction.
See more updates on this and other stories on Merseyside Live
Peta Associate Director Elisa Allen said: "It's imperative that any community faced with a sadistic and violent act like this take measures to find the culprits and bring them to justice.
She added: "Animal abusers are a danger to everyone: they take their issues out on whomever is available to them - human or non-human - and must be caught before they act again."
RSPCA animal welfare officer John Littlewood earlier said he strongly believed Elmo had been "dumped and left to die in the cold".