Warrington Borough Council to axe 120 jobs in £21m cuts plan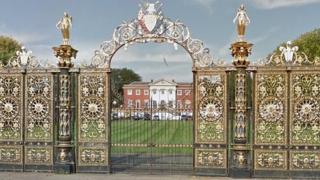 Warrington Borough Council is to axe 120 jobs as it tries to save £21.4m, while council tax could rise by 3.98%.
Cuts to disability support, bus subsidies and funding for school lollipop patrols are planned, while a children's centre is likely to close.
The local authority has already made £92m of cuts since 2010.
A council report said it would work with trade unions to "reduce the need for compulsory redundancies". So far, 80 staff have opted to go voluntarily.
A consultation on the cuts has been launched, with a final decision due to be made in March.
The budget cuts will contribute towards £35m of savings needed by 2019.
Councils are now able to increase council tax by an extra 2% on top of the previous limit of 1.99%, but the extra money has to be spent on social care.
Councillor Russ Bowden, responsible for finance, said such costs were "increasing significantly".
Mr Bowden said: "We need to act now - an additional 2% precept won't solve everything but it will certainly help."
---
Where will money be saved?
Warrington Borough Council plans to:
Review support packages for people with disabilities and mental health problems (£1m saving)
Close Sandy Lane children's centre (£876,000 saving)
Cut subsidies for rural and off-peak bus services (saving £200,000)
Find alternative funding for school lollipop patrols, with a warning some will be removed otherwise (saving £125,000)
---