Dog 'dumped' in Birkenhead cemetery 'had all its bones broken'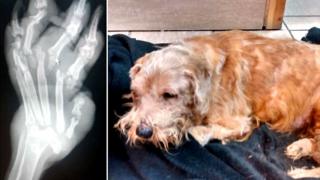 A dog found abandoned in a cemetery had been so badly treated that every bone in its body had been broken.
The RSPCA has released photos of the pet, which was found in Prenton, Birkenhead, Wirral, on Saturday and later put down.
Animal welfare officer John Littlewood said it was the most severely injured dog he had ever helped.
It is hoped the images could lead to information to help catch whoever is responsible.
See more updates on this and other stories on Merseyside Live
Mr Littlewood said: "The vet believes some of the injuries could date back several years.
"It's difficult to imagine the pain and suffering this poor little dog has endured.
"There is no way he could have got himself into the cemetery with those injuries. I strongly believe he was dumped and left to die in the cold."