Council unveils plans for £250m 'Downtown Birkenhead' investment project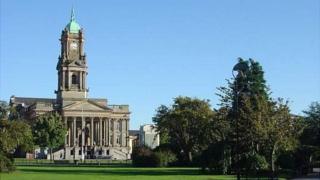 Plans have been announced to reinvent Birkenhead as one of the North's most desirable places for businesses to invest.
Wirral Council said it wants to attract £250m of new private sector investment into the region by the end of 2020.
It is part of plans to make Birkenhead "the most attractive postcode for companies wanting to invest in the Northern Powerhouse".
Projects worth £150m are due to be rolled out by the end of 2016.
The council said it hoped Birkenhead would become a national centre for enterprise in the low carbon sector, advanced manufacturing, retail, leisure and the maritime industry.
Called the Wirral Growth Plan, the investment would focus particularly on what the council describes as the "Downtown Birkenhead" postcode, CH41.
The project was approved by the cabinet earlier and includes plans to attract 250 new businesses, create 5,000 new jobs and build 3,500 new homes across the region.
The projects already earmarked to get under way in 2016 include a £30m redevelopment of Birkenhead town centre, including the market and Europa Pools leisure centre.
A new £25m "advance manufacturing centre" is also being created by Unilever in Port Sunlight, where the firm will test and develop new technologies.
What is the Northern Powerhouse?
Council leader Phil Davies said: "Wirral is a place investors are interested in.
"Already home to global businesses including Cammell Laird, Vauxhall Motors, Typhoo Tea and Unilever's Advanced Manufacturing Centre - businesses and employers are looking for available land, skilled staff and a strong transport and digital infrastructure."
The plan has been developed in conjunction with other organisations including Wirral Chamber of Commerce and Wirral Metropolitan College.
Paula Basnett, CEO of Wirral Chamber of Commerce, said: "It is of great importance that all organisations work together to create an environment which will offer employment, growth and economic prosperity.
"Wirral Chamber of Commerce will support those initiatives which will bring positive benefits to Wirral, its businesses and its residents."