Safety concerns raised over M62 advertising screens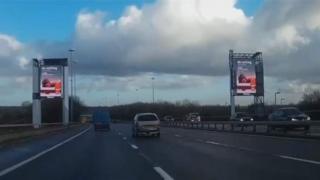 Electronic advertising screens could be a "distraction" for motorists on the M62, road safety campaigners have said.
The two screens - which are 24ft (7m) by 16ft (4.8m) - have recently been put up on either side of the M62 in Liverpool, near the Rocket junction.
The Alliance of British Drivers said the idea "beggars belief".
Liverpool City Council said similar screens were common throughout the UK and road safety had been considered when planning permission was given.
Best practice guidance had been followed, it added.
'Beggars belief'
The LED screens stand on 65ft (19.8m) towers in a car park at the junction of Thomas Lane and Bowring Park Road underneath the motorway.
Chairman of the Alliance of British Drivers Brian Gregory said: "The plan to put large distracting advertising signs on motorways beggars belief.
"We call upon the government to step in and ban these signs immediately."
Some local residents and neighbouring Knowsley Council had objected to the M62 screens but Liverpool City Council gave permission for them in the summer.
A Liverpool City Council spokesman said safety measures such as lighting levels were monitored and all the imagery was static and two dimensional.
Clear Channel, the company which makes the screens, said it recognised the city was "an economic and cultural hub".
"For many people, outside advertising, especially premium, architecturally-designed sites like our new site in Liverpool improve the urban environment."
It added the site generated revenue for the council, which was then invested in public services.