'Most decorated' WW1 medic gets headstone after 95 years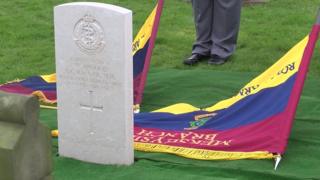 One of World War One's most decorated medics, who was buried in an unmarked grave, has been given a headstone 95 years after his death.
Staff Sgt Wilfred Brooke, who was born in Bradford but enlisted in Liverpool, twice received the Distinguished Conduct Medal (DCM) for gallantry.
He died in 1920 but a clerical error meant his headstone was not approved by the War Graves Commission.
A ceremony to mark his grave was held at Wallasey Cemetery in New Brighton.
His family has not been traced but members of the public and military personnel attended the service.
'Disregard of danger'
An Army spokesman said it was thought Brooke may have been "the most decorated soldier of his rank in the entire war".
Alongside his two DCMs, he was also awarded the Military Medal and Belgium's Croix de Guerre and was mentioned in dispatches.
Brooke was born on 1 September 1880 and enlisted in the army shortly after his 34th birthday in the first months of the conflict.
A year later, he was sent to France as part of the 2nd West Lancashire Divisional Field Ambulance.
His first DCM came during troop retreats near the Somme in Spring 1916, where he "constantly led his bearer squads through machine gun and artillery fire" and showed a "disregard of danger" that was "an example to all in his unit".
The second was given for "great gallantry" at Gouzeaucourt in September 1918, where "knocked down and wounded by a shell, he carried a man in spite of shelling and machine gun fire to a place of safety, after which he collapsed".
He left the Army in April 1919 and died a year later from the wounds he sustained in battle.