Judge overturns ban of Cheshire councillor opposed to fracking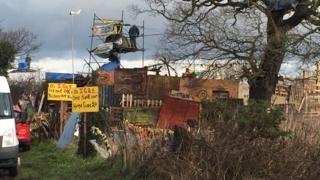 A judge has overturned an order banning a Cheshire councillor from visiting part of the area he represents.
Matthew Bryan was one of nine people arrested in Upton in an operation to remove anti-fracking protesters from a test drilling site on 12 January.
Bail conditions attached to a charge of obstructing a police officer meant he could not enter parts of Upton.
Judge Michael Abelson said the order "effectively gagged" the Labour councillor from expressing his views.
The judge at West Cheshire Magistrates' Court said the bail condition meant the councillor for Cheshire West "is not able to function in the capacity in which he has been elected".
"This is a particularly sensitive and difficult situation because he is a lawfully elected member," he added.
He changed the order so Mr Bryan is now only excluded from Duttons Lane, which leads to the fracking site.
Speaking after the hearing, Mr Bryan said: "I'm glad the judge can appreciate the role of a councillor to support his local constituents."
He and other protesters will appear in court again next month.
Campaigners set up camp at Upton, near Chester, in April 2014 to prevent testing by energy company IGas.
In November, they were served with a court order compelling them to leave the site.
Bailiffs, supported by police from Cheshire, Merseyside and North Wales, moved to evict them on 12 January.