Ceramic poppies: Liverpool display draws 360,000 visitors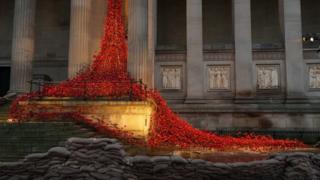 About 360,000 people visited a Liverpool exhibit of ceramic poppies, which was previously on display at the Tower of London.
About 6,000 ceramic poppies were draped down St George's Hall since 7 November.
They formed part of the 2014 artwork Blood Swept Lands and Seas of Red to mark the centenary of World War One.
Visitor numbers for the exhibit, which ended on Sunday, were "beyond expectations", Liverpool councillor Wendy Simon said.
"We will be sad to see such a wonderful work of art leave the city, but it is so important that as many people as possible are given the opportunity to see the poppies up close," she added.
'Overwhelming response'
Created by artists Paul Cummins and Tom Piper, the original artwork in London included 888,246 poppies to represent each death in the British and Colonial forces between 1914 and 1918.
Most of the poppies were sold to the public, raising about £9m for military charities, but two sections - the Wave and the Weeping Window - were bought for the nation by the charities Backstage Trust and Clore Duffield Foundation.
About 120,000 people saw the Weeping Window when it was displayed at Woodhorn Museum in Northumberland in the autumn before arriving in Liverpool.
Yorkshire Sculpture Park said its visitor numbers nearly trebled in September when the Wave was installed.
Both sections will be exhibited at other venues across the UK before they are permanently housed at the Imperial War Museums in London and Manchester after 2018.
Jenny Waldman, director of the organisers 14-18 NOW, said: "We are delighted with the overwhelming response the poppies have received in Liverpool."
---
Poppies at Liverpool
St George's Hall was built between 1842 and 1856
A month after WW1 broke out, thousands of men packed on to St George's plateau volunteering to join Pals battalions
By September 1914, more than 30,000 men had enlisted at St George's Hall
More than 13,000 men from Merseyside died in the conflict
The plateau also features the Liverpool cenotaph, established in 1927 as a memorial to those who fell in WW1
---