Cheshire Police car pelted with rocks in M6/M62 pursuit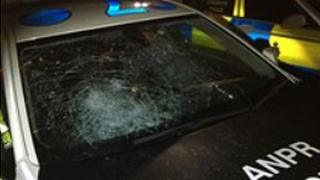 A policeman was left with glass in his eye after his car was pelted with rocks by two men during a motorway pursuit.
The vehicle, which had its windscreen smashed in the incident, was attacked after officers followed a blue BMW on the M6 in Cheshire at about 03:25 GMT.
It briefly pulled over after joining the M62, before the men jumped out and threw rocks before getting back into the car and driving off.
The injured officer was taken to hospital and later discharged.
A Cheshire Police spokesman said the officers, who had reversed to try to avoid the attack, were unable to follow the car as their windscreen had been too badly damaged.
One of the suspects has been described as "possibly in his 20s, of average height and slim build with short dark hair and a scruffy short beard. He was said to be wearing a "dark-coloured jacket and sleeveless hi-vis jacket".
Det Ch Insp Paul Beauchamp said the men "already had the rocks in their hands as they got out, suggesting this was their intention from the outset".
He said the attack was "unfathomable" and something that officers "going about their daily tour of duty protecting the community should not have to face".