Sutton Manor colliery: What happened to the miners?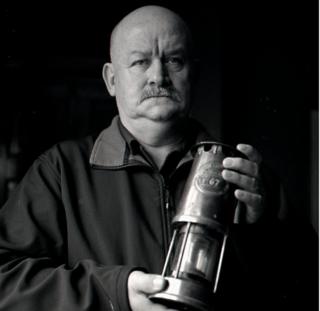 When Sutton Manor colliery closed in 1991, a group of miners from St Helens lost not only their jobs but also the focal point of their community.
When the Pit Closed, a new photographic exhibition at The World of Glass in St Helens, depicts the men as they are today in a series of black-and-white portraits.
Writer and photographer Alan Smith, from the nearby village of Rainford, spent a year documenting the stories of 10 former pit men.
The 58-year-old, whose grandfather was a miner, said: "The average age when they became unemployed was 33 at a time when jobs in the industry were shrinking.
"Most of them had mortgages and young families to feed."
Using a vintage Rolleiflex camera, he photographed them holding a miner's lamp in a countryside setting that contrasted starkly with the industrial scenes that once characterised Sutton Manor.
---
Sutton Manor
Opened in 1906
By the 1960s it employed more than 1,500 men
They produced 600,000 tonnes of coal
---
Third-generation miner Alan Roby got his first job at Sutton Manor aged 15 in the stores and blacksmith's shop. He worked there until the mine closed.
The 58-year-old said he was "devastated" when it shut but "after any knockback you have to get back on your feet".
He transferred to the nearby Parkside colliery but said: "It wasn't the same. At Sutton Manor we were one big family; at Parkside we were just a number."
After Parkside closed two years later, he worried for his future "having only ever known mining" but took a week's work in a Widnes asbestos company, which then became his new career.
Brian Salkeld became a trainee miner in 1958 and went on to oversee the training of hundreds of apprentices and miners at Sutton Manor.
Managing the decommissioning of the pit, he was the last St Helens-born miner to work in the town. He then took his training skills to the Benefits Agency at Salford Quays and the job centre in St Helens.
He said: "I loved every minute of the time I spent at Sutton Manor... the camaraderie was marvellous.
"I missed working at the pit but you've got to adapt and pit men were some of the most adaptable people you could meet."
Brian now writes poetry influenced by his experiences. One poem included in the exhibition reads:
"Beneath this ground toiled human worms
Gave all they had to give
To help make this country great
And improve the way we live".
The exhibition, supported by the Heart of Glass project and Arts Council England, runs until 18 March in the Godfrey Pilkington Gallery at World of Glass in St Helens.