Birkenhead Grade II-listed bridge to reopen after fire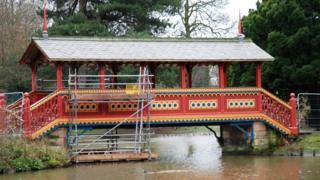 Repairs to a Grade II-listed bridge in Birkenhead are to be completed by the end of January, Wirral Council said.
Vandals caused £20,000 worth of damage when they set the Swiss bridge on fire in September.
The wooden bridge was built when the park opened in 1847 and had recently been repainted. It has been closed since the blaze.
The council said the "mindless vandalism" was "a tragedy".
'Park flagship'
Specialist work had to take place to restore it to its previous condition, the council said.
Cllr Chris Meaden, cabinet member for leisure and culture, said: "It was a tragedy when [the bridge] was so badly damaged by a mindless act of vandalism. It is one of the iconic structures of Birkenhead and certainly the flagship symbol of the park.
"Not least because of its listed status, this restoration work has had to be done properly, using appropriate materials and techniques and the whole structure has to be repainted, not just the damaged areas."