Upton anti-fracking camp: Nine charged after eviction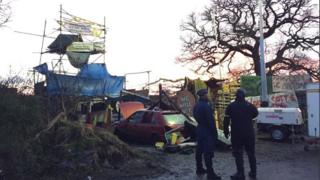 Nine people have been charged following an operation to remove anti-fracking protesters from a test drilling site.
Campaigners were evicted on Tuesday from a camp at Upton, near Chester, where they had been since April 2014.
The nine were charged with a number of offences, including aggravated trespass and obstructing a police officer.
A Cheshire Police spokeswoman said the force would "maintain a presence" at the site while bailiffs clear it for energy company IGas.
She said the force had also asked Cheshire West and Chester Council to close Duttons Lane, which leads to the site, until 1 February.
The arrests came during the eviction of about 30 protesters, who had been served with a court order compelling them to leave the site in November.
The nine arrested at the site were charged as follows:
A 46-year-old man was charged with aggravated trespass and resisting an enforcement officer
Two men, aged 29 and 50, were charged with obstructing or resisting a constable
Three women, aged 28, 23 and 52, and a 33-year-old man were charged with obstructing or resisting an enforcement officer
A 41-year-old man was charged with failing to comply with a dispersal order
A 64-year-old man was charged with assaulting a constable and a public order offence
Planning permission for IGas to run tests at the site runs out on 28 May.