Merseyside Police PCSO and horse unit cuts shelved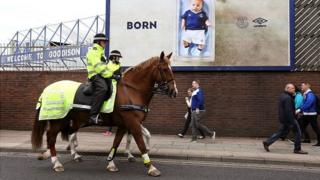 Merseyside Police has abandoned plans to lose hundreds of community support officers and its mounted section.
The force said it was considering making the cuts as part of plans to slash up to £70m over the next four years.
However, Ch Con Sir Jon Murphy said the cuts were no longer necessary following the chancellor's Comprehensive Spending Review.
The force will also be able to recruit new officers in 2016, Sir Jon added.
"It now appears that we may not have to cut as deeply, or as quickly, as we had first anticipated," he said.
"But there will still be a requirement to make significant savings, changes and reforms, albeit over a slower period of time.
"I am pleased say that at this stage the force will not be pursuing some of the planned changes announced in the autumn, which included considerations to disband the mounted department and lose our police community support officers."
The reprieve came after George Osborne pledged to protect police budgets in England and Wales.