Queen's accession call supervisor turns 100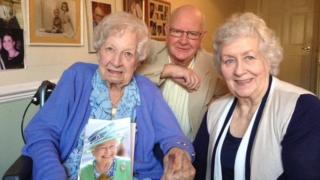 A woman who put through the call informing royal aides of the Queen's accession to the throne has turned 100.
Peggy Warde was working as a telephone exchange supervisor in Uganda when George VI died on 6 February 1952.
She put through the call informing royal aides at the Treetops Hotel in Kenya, where his heir Princess Elizabeth and Prince Philip were on a break, of the king's death.
Mrs Warde, of Wirral, received a birthday card from the Queen.
She will celebrate with family and friends at a party in her nursing home.
"I've had a good life and I'm quite happy to tell everybody that. Just keep going, it's lovely," she said.
Mrs Warde was "locked in a room and sworn to secrecy" on the day news of the king's death emerged, her son Anthony said, adding: "Mum put the call through, not knowing at the time what had happened on that sad and historic occasion."
A letter from Buckingham Palace on Mrs Warde's 90th birthday in 2005, said the Queen was "touched to know that she is still so deeply affected by the memory of that sad and historic phone call".
Mrs Warde said: "It's just I want to see my friends and that's what I'm looking forward to most of all."