Mersey ferry terminal could close, 20-year plan reveals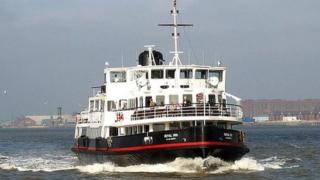 One of the Mersey ferry terminals could close and a new vessel could be commissioned, it has been announced.
Merseytravel said its 20-year plan is aimed at tackling "increasing costs and challenges". Included is a proposal to close one of Wirral's two terminals.
Commuter sailings could also start later and the report suggests a focus on "the leisure and event market".
The company said the strategy is to reduce the fleet's operational costs and build on "commercial potential".
Gary Evans from Merseytravel explained: "We are looking at providing a different type of experience for the customer.
"Our current vessels don't lend themselves to live music for example or catering events so these are the types of experiences we would be looking at."
Merseytravel committee members will be asked for an endorsement of the strategy in January.
If they approve the scheme, they would then decide which of Wirral's two ferry terminals - Woodside or Seacombe - would close.
'Think big'
Mr Evans said the company also wanted to review the commuter ferry's customer timings in an attempt to "avoid the vessel being on the river overnight".
He added: "Should members approve the strategy, there will be some exciting decisions for them to take and some difficult ones. However, to secure the Mersey Ferries for future generations to enjoy we have to think big and differently.
"Efficiency has to go hand in hand with looking at the wider economic benefits the Mersey Ferries bring to the Liverpool City Region - looking at how we can build passenger numbers and their commercial potential."
The first fare-paying ferry across the Mersey was operated by Benedictine monks from Birkenhead Priory in the 12th Century.