Dickens' 'Scrooge' book given away in Liverpool taxis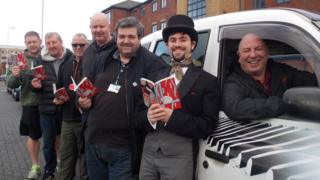 Five hundred copies of the Dickens classic "A Christmas Carol" are being placed in taxis around Liverpool.
The idea is that everyone who picks up a book will take it away, read it and leave it in another taxi, on a bus or train for someone else to find.
It is a project thought up by Moved to Read, a joint initiative between Liverpool City of Readers and Merseytravel to promote public reading.
Each book has a sticker inside asking finders to read and share the copies.
The special editions of the novel - about Ebenezer Scrooge, a Victorian miser taken on a journey by several ghosts which transforms him into a kinder man - were donated by Vintage Books.
'Christmas classic'
It was first published in 1843 and has never been out of print.
Dr Jane Davis, Director of Liverpool City of Readers, said: "We want to share this Christmas classic with the people of Liverpool and spread the word about reading for fun with family and friends this festive season."
Councillor Lana Orr, Mayoral lead for City of Readers, said: "Many people use taxis over the festive period and reading when travelling is a great way to relax and learn."