'Tarmacademy' plan to cash in on £250m Liverpool roadworks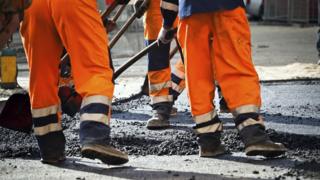 Proposals for a "Tarmacademy" have been put forward as a way of helping local people benefit from £250m of planned roadworks in Liverpool.
Civil engineers King Construction hope to train 1,000 people over the next five years at a centre which would be located near North Liverpool Docks.
Mayor Joe Anderson said he wanted to "make sure" locals were "best placed" to capitalise on the need for labour.
Liverpool City Council will consider the plans at a meeting on Friday.
It would see a new generation of Liverpudlians work with asphalt - known as the "Black Stuff" - and trigger memories of local writer Alan Bleasdale's well-known 1978 TV play and subsequent 1980s series.
Updates on this story and more from Merseyside
The Black Stuff told the story of a road-laying team from Liverpool on a job in Middlesbrough.
The Boys From The Black Stuff series then focussed on their lives after they were laid off.
The academy plan will also see building materials company Cemex open an asphalt plant on the same site, thereby "helping the environment by making sure that the raw materials can be made 'road ready' on site", rather than being transported from the company's Manchester plant, Mr Anderson said.
Students will work towards qualifications such as NVQs in highways skills and reinstatement, as well as the necessary certification to get jobs with local businesses, a council spokesman said.
He added that the academy would employ 25 tutors and administrators, while the asphalt plant would create 20 roles.