Head teacher sentenced for neglecting dog in Wallasey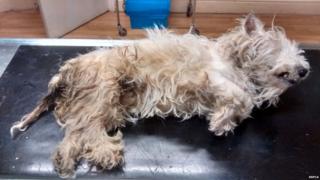 A primary school head teacher who neglected her pet dog so badly that it smelt like "rotting flesh" has been given a suspended jail sentence.
Susan Horncastle, 60, from Wallasey, admitted failing to care for her 17-year-old West Highland terrier, Snowy.
The dog had a large untreated tumour and was so ill that it had to be put down, Wirral magistrates heard.
Horncastle, of Brookthorpe Close, was sentenced to three-months in prison, suspended for two years.
She has resigned from her job as head of Our Lady of Good Help Catholic School in Liverpool.
When an RSPCA inspector called at her home, he noticed a foul smell as he opened the letterbox and at first thought the dog was dead.
The court heard when the terrier was taken to a vets, it was found to be severely dehydrated and very thin with infected ears and mouth.
It had fur matted with faeces and a large ulcerated sore on its body and was put to sleep to prevent further suffering.
RSPCA Inspector Anthony Joynes said Snowy had suffered "a catalogue of neglect".
"The dog was in an awful condition. On first sight, the vet thought he was dead - he was in such a collapsed, weak state... the vet felt it was kinder to put him to sleep."
Ms Horncastle had earlier pleaded guilty to causing unnecessary suffering to the dog between 11 June and 11 July this year. She was also given a life ban from keeping animals.
Her defence said she looked after the dog for her sister when she was abroad.
She was ordered to pay more than £1,000 in RSPCA and court costs.