Liverpool Women's Hospital: Monitor launches finance probe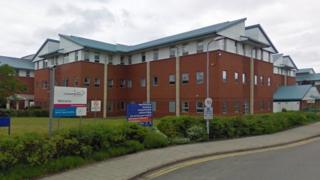 An investigation has been launched after "a deterioration in finances" at Liverpool Women's Hospital.
The NHS trust, which offers maternity and gynaecology care, said it had a planned deficit of £8m in April, which had now been cut to £7.3m.
It added it needed to apply for "cash funding" from the Department of Health, which had "automatically triggered" an investigation by the watchdog Monitor.
A Monitor spokesperson said it would announce the outcome in "due course".
Paul Chandler, regional director at the watchdog, said it wanted "to find out quickly what support [the hospital] needs to help ensure its financial sustainability".
"We are aware the trust has already taken considerable action to address these challenges."
Deficit not unique
Vanessa Harris, director of finance at Liverpool Women's, added "a number of external factors beyond our control contribute to the position we are in, including the money that is paid to us to provide maternity services, which doesn't cover their cost".
She said the hospital was "not alone with facing a deficit this year - there are many NHS trusts facing much bigger deficits than we do".
"We cannot do any more to reduce our deficit this year," she added.
Jo Topping, interim medical director at the hospital, added: "We can reassure the public that the safety and quality of our services are not affected by Monitor's investigation."
She stressed a recent Care Quality Commission inspection gave the trust an overall rating of "good".