Arcade-abandoned baby mother spared jail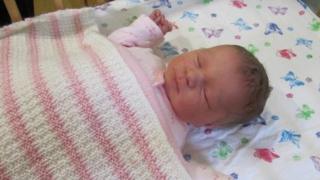 A mother who abandoned her newborn daughter in a toilet cubicle at an amusement arcade has been given a suspended sentence.
Nicola Glover's baby was found at Silcock's Amusements in Southport, Merseyside, on 16 April.
The 30-year-old, from Hughes Avenue, Prescot, admitted cruelty at a previous hearing at Liverpool Crown Court.
Judge Alan Conrad QC said baby April was exposed to "the gravest risk", but accepted Glover was unwell at the time.
"I accept you are remorseful for what you did," he said.
Updates on this story and more from Merseyside and Cheshire
Glover was "overwhelmed by panic" when she gave birth on her own in the toilet cubicle, and hoped someone would find the baby as she did not intend to cause the child harm, the court heard.
She was given an eight-month sentence, suspended for 18 months.
The baby, named April by nurses at Ormskirk Hospital, has been taken into care.
Her survival has been described as "miraculous" and the staff were commended by the judge for their efforts.
The court heard Glover had known she was pregnant but had kept it a secret from her family and had not seen an antenatal specialist.
She had previously denied a charge of attempted murder, which was accepted by the Crown.
Defending, Charlotte Atherton said there had been a lack of premeditation and that Glover's mental health had been a significant mitigating factor in the "sad and unusual case".
Deputy chief crown prosecutor for Mersey-Cheshire Crown Prosecution Service, Alison Mutch said: "It has been important to strike a balance between prosecuting Ms Glover, but also showing compassion and we feel that very difficult balance has been struck.
"She will no doubt regret the actions of that day for many years to come."