Merseyside devolution plan: St Helens Council set to back deal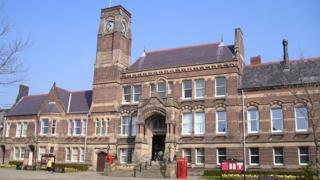 The ruling Labour group on St Helens Council has agreed in principle to support a deal to devolve more powers to Merseyside.
It will vote on the proposal next week along with the five other councils that make up the Liverpool City Region Combined Authority.
The plan means voters in Merseyside and Halton could directly elect a mayor for the region.
St Helens was believed to be the most sceptical council.
The ruling group decided to support the deal after hearing from council leader Barrie Grunewald on Saturday. But they say it depends on seeing the final draft of the deal.
The six council leaders in Merseyside and Halton "agreed in principle" to the devolution deal last week after meeting with the Treasury to discuss final details.
Last month a government minister claimed the region was not ready.
Former deputy prime minister Lord Heseltine, who said he was working closely with Communities Secretary Greg Clark, later met the region's council leaders and urged progress.
Merseyside is one of many city regions in the UK looking to gain more control over Whitehall budgets by getting a deal similar to the one agreed in Greater Manchester.