Fracking: Green Party leader supports Cheshire campers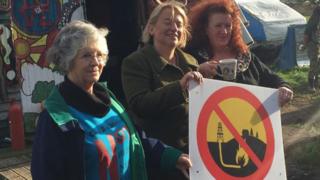 Green Party leader Natalie Bennett has told anti-fracking campaigners, facing eviction in Cheshire "non-violent direct action", may be necessary.
The protesters have been camping in a field near Upton in Chester for the past 18 months, but were given 28 days to leave by a judge last week.
Natalie Bennett said the campers were "standing up for their community".
Landowner, energy firm IGas, said the camp was illegal.
The protesters have been in the field since April 2014 to prevent testing on the site by IGas.
It has planning permission to test for coal-bed methane, and last month announced it had bought the leasehold on the land.
'Standing up for their community'
Visiting the camp earlier, Natalie Bennett stated: "These people are standing up for their community, supporting the fight for a sensible energy policy, a sensible environmental policy for Britain's future.
"We understand that non-violent direct action sometimes is necessary when the other mechanisms fail we need to take action, and people historically have taken action to get the real kind of political change we need", but added she would "very much not" support violent action to remain on the site.
Last week a judge at Manchester County Court said the campaigners had no permission to be on the field and said there was "no reason peaceful protest couldn't take place without the occupation of the land".
Judge David Hodge QC gave the protesters until the 4 December "to pack up and vacate".
In a statement, IGas said "Whilst we respect the right to peaceful protest, we do not condone any activities that are unlawful."
Camp resident Vanda Gillett told the BBC "The community have been behind us because they don't want fracking in this area at all".