Hillsborough Inquests: Fan collapsed into 'pile of casualties'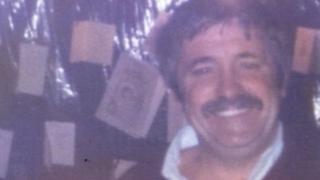 A Liverpool fan has recalled how a victim at the Hillsborough disaster seemed to "stare through him" before collapsing into a "pile of casualties".
Ian Johnson told the inquests how he watched Henry Burke's face change colour as he struggled to breathe.
The hearings in Warrington are focusing on the deaths of 96 people at the FA Cup semi-final on 15 April 1989.
"It was like one of those pictures where the eyes are always following you," Mr Johnson said.
"I just remember him almost staring through me."
Ninety-six fans died during a crush at the game between Liverpool and Nottingham Forest at Sheffield Wednesday's stadium.
Mr Johnson told the new inquests he was in pen three of the Leppings Lane terrace, when he spotted Mr Burke about six or seven feet away in what he described as a "pile of casualties", with just his head and shoulders visible.
He said he could see the 47-year-old try to move his head so he could breathe but shortly afterwards Mr Burke collapsed out of sight.
The jury also heard from James Grant, a police officer who said he helped to pull Mr Burke through the gate in the terrace fence before placing him on an advertising hoarding and carrying him to the gymnasium where the casualties were being taken.
He told the jury he believed Mr Burke was dead when he pulled him from the terrace.
Statement 'mistake'
Mr Grant said he could not recall whether he checked for a pulse but said he did not think the Liverpool fan was conscious.
When asked if he was moving in any way, he replied: "I believed him to be dead."
He said he placed Mr Burke on the gymnasium floor and went to help another casualty before returning later.
But he said he could not remember if he was with him when a doctor confirmed his death at 16:00 BST.
Under questioning from a barrister representing Mr Burke's family, Mr Grant admitted his recollection may have been wrong.
The court was shown a statement he signed in May 1989 in which he said he remained with the body from the point of removing him from the terrace.
Asked by Michael Mansfield QC whether they were his words he replied: "I didn't prepare that statement, but I signed it without reading it properly. That was a mistake of mine."
The inquests are due to resume on Thursday.
---
Who were the 96 victims?
BBC News: Profiles of all those who died
---