Man escapes jail over celebrity blackmail plot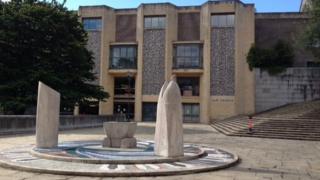 A man from Merseyside has escaped a prison sentence after he tried to blackmail a celebrity by threatening to release sexually explicit photos of him with a famous woman.
Desmond Fraser, 32, of Mill Lane, Wallasey, admitted attempted blackmail at Winchester Crown Court.
He was sentenced to 12 months' imprisonment which was suspended for 18 months.
The male and female celebrities could not be identified for legal reasons.
Fraser was also ordered to pay £500 court costs and a £100 victim surcharge.
Mary Aspinall-Miles, prosecuting, told the court Fraser contacted the male celebrity, referred to only as "T" in court, through Twitter saying he had "intimate" photos of him with a female celebrity referred to as "X".
The defendant made it clear he had been offered £17,300 for them by "other people", the court was told.
Judge Keith Cutler said: "The defendant had intimate photographs of T and X in different positions and he was showing that he had them and there was some talk about the pictures being sold."
T alerted Hampshire Police on 5 September 2013 who surreptitiously took over negotiations and Fraser was arrested after officers arranged for a cash drop-off at a service station on the M53 motorway.
Saleema Mahmood, defending, said Fraser was of "exemplary" good character and had not intended to harm T and X.
She said: "He did not wish to harm the complainant, all that he wished was to ensure that his role was adequately remunerated. He was acting in a way that was ill-thought out and reckless in its nature."
Sentencing Fraser, Judge Cutler told him: "The courts regard blackmail as an extremely unpleasant and nasty offence.
"All people, whether in the public eye or not, deserve protection from blackmails. Victims often become vulnerable, feel very alone and become distressed."