Liverpool late-night levy planned for pubs, bars and clubs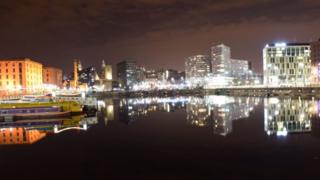 Pubs and clubs in Liverpool could have to pay a levy to the council if they want to stay open later than midnight.
Liverpool City Council wants to introduce an annual charge - between £299 and £4,400 - on licensed premises to offset the additional costs of the night-time economy.
Merseyside Police have estimated it costs about £540,000 a year to cover the city centre from midnight to 06:00.
A similar levy was introduced in Newcastle-upon-Tyne in 2013.
Liverpool council said it would affect about 800 premises in the city.
---
Analysis: Mairead Smyth, BBC Radio Merseyside political reporter
"Against the backdrop of funding cuts of 58% over the last five years and threats of more on the horizon, Liverpool City Council needs all the help it can get to support the thriving night-time economy.
"Before deciding on this consultation the licensing committee made a visit to Newcastle where a late-night levy has been in place since 2013 and brings in about £300,000 a year.
"If it is brought in here it will not just apply to pubs, bars and clubs - off-licences will have to pay up too.
"It's hoped the levy will not lead to any bars closing and councillors here can gain some confidence from Newcastle where no businesses have ceased to trade because of it."
---
Councillor Emily Spurrell said: "About 70% of the money would go to support police, the other 30% would go to the council to support other activity that goes on, such as taxi marshalling or cleaning.
"It's all about keeping the city safe and vibrant so everyone has a great night out and then getting people home safely.
She believes the levy would be manageable for businesses in terms of operational costs, with the vast majority paying the lower rates.
"I can see why people might be anxious but the benefits businesses will see are huge. Given the cuts coming to the council we are going to struggle to keep up the current service."
One city-centre bar owner, who only wanted to be known as Colin, told BBC Radio Merseyside he was concerned about the additional charges and feared the costs would be passed on to the customer.
"The levy that is being planned to cover six hours of policing, it doesn't have to be as high as it is. Some bars will pay about £4,000 a year.
"If we have this situation I can assure you now, come midnight our prices would go up about 50p or £1."
A spokesman for the pub chain JD Wetherspoon said the company disagreed with the levy because it was "an unfair tax on pubs".
It said: "Wetherspoon already pays high levels of tax. Other city councils have looked into this and we are forthright in our opposition.
"If it were to be introduced in Liverpool, we would have to consider the closing times of our pubs."
A consultation on the council's proposals begins later this month and will run until January.
Ms Spurrell encouraged people to get involved, adding: "Nothing has been set in stone yet."
If implemented, the levy could be introduced from June 2016.