Liverpool school brings 'beach' to playground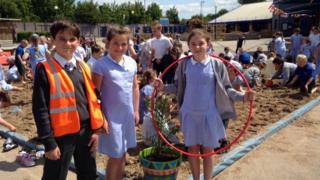 A school that could not afford to take its pupils to the seaside has created a beach in its playground.
Ten tonnes of sand, donated by local businesses, were used to create the beach at Banks Road Primary School in Garston, Liverpool.
Pupils decorated palm trees, built sandcastles and enjoyed donkey rides.
Bursar Doreen Finnegan said: "It has made a massive difference to these children. It gave them a good time, a time to remember."
A wooden outdoor classroom was converted into a beach hut and fish and chips were served for lunch.
'Real donkeys'
Children buried each other in the sand and said they had a "superb" time.
"They've had real coconuts and they've been on real donkeys and the beach was there to do what they wanted," said Ms Finnegan.
"A little boy told me it was the best day in the world.
"We had no funds to take the children out on seaside trips. We had ever-diminishing funds, so we decided to bring the beach to the children and the businesses came up trumps."
She said some of the children had never seen a real donkey before.
Jamie Ross, 11, said: "It's great because I don't think we have ever had a beach trip. It's great that we get to have one in our school."
Classmate Ellie Salmon, 11, said she had never ridden a donkey before and enjoyed turning the corner no-handed.
Neve Gannon, 11, said: "It's been quite good because I have been buried in the sand a few times up to my knees."