Mersey River Festival brings Liverpool 200,000 visitors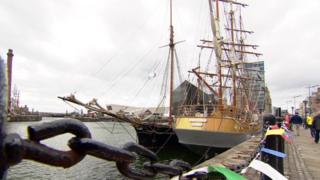 Up to 200,000 people are believed to have been in Liverpool for the International Mersey River Festival, organisers have said.
Tall Ships and vessels of all sizes have been on show on Liverpool's waterfront at the three-day event that started on Friday.
The festival featured the first Northern Boat Show showcasing with about 150 exhibitors and 60 boats.
The event also boasted live music acts, water sports sessions and air shows.
Maritime highlights included appearances from ships including the Kaskelot and the Kathleen and May and an exclusive public viewing of a new model of the Bavaria 300 at the Northern Boat Show.
The Kaskelot was originally a traditional Baltic trader built in Denmark in 1948 and is one of the largest remaining wooden ships in commission.
It has featured on TV and in films including Return to Treasure Island, The Three Musketeers, David Copperfield and Shackleton.
The Kathleen and May, which was built in 1900 and a trading schooner until 1961 has a £2m price tag.
It has officially resided on Liverpool's waterfront since 2010.