Search begins for family of Victoria Cross recipient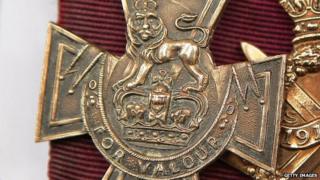 A search has begun to find the descendants of a Liverpool man who received a Victoria Cross (VC) after the Indian Mutiny.
Gunner William Connolly was awarded the medal for bravery during an 1857-58 rebellion by Indian troops against British rule.
He won his VC because he did not leave his post despite receiving three wounds to his legs caused by musket balls.
But he sold the medal after becoming impoverished and died in December 1891.
'I'll not go'
A memorial plaque to mark his grave is to be unveiled and it is hoped any descendants will be able to attend the ceremony, Liverpool City Council said.
It was reported Mr Connolly would not leave his post until he collapsed through loss of blood.
His commanding officer ordered he be removed from the action but he is understood to have said: "No, Sir, I'll not go there, whilst I can work here."
Councillor Joe Hanson said: "There are only 10 people from Liverpool who have been awarded VCs and we should be proud of what they achieved and recognise their bravery."
Born in Liverpool in 1817, Mr Connolly served with the Bengal Horse Artillery and later the Royal Artillery.
His last known address was 14 Westminster Road, Kirkdale.
The British ruled India for 200 years until the country's independence in 1947. In India the 1857-58 mutiny is often described as the first war of independence.
It took place after Hindu and Muslim soldiers rebelled against the British East India Company in 1857 over fears gun cartridges were greased with animal fat forbidden by their religions.