General Election 2015: HS2 plan is key to Crewe debate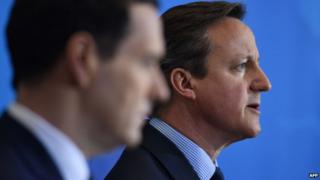 "A billion pound blow for Crewe" is how Chancellor George Osborne summed up the prospect of a Labour/SNP coalition when he and David Cameron came to South Cheshire earlier this week.
The Conservatives claim the Scottish National Party would have little interest in building a high-speed railway station in the town - a project which has been championed as a huge economic boost for the town and its surrounding area.
Crewe's railway heritage gave a fantastic backdrop for their speech, which took place on Monday in front of some carriages at the Arriva traincare centre near the station.
But it also made it surely one of the most inaccessible speeches of the whole campaign, being in a shed on the wrong side of a level crossing off a side road where the barriers are down for 20 minutes at a time. At the end of the event it even trapped the PM's car!
It was trailed to the national media as a response to the SNP's manifesto, launched on the same day by Nicola Sturgeon.
However, the sheer number of mentions of Crewe would surely have raised eyebrows for anyone who may be suspicious that the Tories have been shaken by one of Lord Ashcroft's polls from earlier this month.
Lord Ashcroft predicted Labour would gain the constituency by a 2% majority.
Incumbent Edward Timpson is defending a majority of 6,046 - pretty healthy compared to many other marginals - making that poll all the more worrying for the Tory high command.
So the warnings about the supposed consequences of the SNP propping up a Labour Party with the most seats but no majority was put in terms people in this battleground constituency could most easily understand.
The Chancellor reasoned that, with no SNP votes coming from Crewe, the HS2 high-speed railway station in the town wouldn't be a priority for the SNP, so they could force Labour to scrap it - hence the "billion pound blow".
Mr Camerson reasoned the SNP would also not be interested in Crewe's planned railway academy and University Technical Collage, so they "could go" as well.
In the live televised speech he told the nation that if people in Crewe wanted to keep the SNP's Nicola Sturgeon out of government, they needed to re-elect Edward Timpson.
It led the SNP to give a reassurance to the people of Crewe, despite the fact they won't be getting any votes from them. Deputy Leader Stewart Hosie has said the Chancellor's and Prime Minister's comments are "utterly meaningless" and "preposterous".
There's more evidence to boost Labour's hopes - they won every single seat on the newly formed town council in 2013.
The area's parliamentary seat is extremely important to Labour because of how many Scottish seats it is expected to shed to the SNP. That's why the warnings from Messrs Cameron and Osborne could be so dangerous for them.
And it's why at a BBC Radio Stoke debate featuring all four candidates for Crewe & Nantwich this week, Labour's Adrian Heald insisted he has a promise from his party that "if HS2 is built we will have a hub station in Crewe" which he said "would bring prosperity, jobs and investment to the area".
But it was down to Liberal Democrat Roy Wood to give listeners the Labour Party's corporate line that the Conservatives are "scaremongering" and "trying to frighten people" because "there will not be a coalition between Labour and the SNP". His party also supports HS2.
Meanwhile, neither the Prime Minister nor the Chancellor mentioned UKIP.
The party's support has clearly grown in the area - from getting just 2.7% of the vote in 2010 to coming second to Labour in every seat in the town council elections of 2013.
And warnings that HS2 may not come to Crewe probably play into UKIP's hands because it's the only one of the four main parties which is completely against the scheme.
Its Crewe & Nantwich candidate Richard Lee has said HS2 wouldn't offer value for money and would amount to "an expensive white elephant".
Whatever your view about HS2, it's an argument which is set to play a big part in deciding who wins here.
As Mr Cameron left the small room where he spoke to members of the media on Monday he gave a rather ominous parting shot: "I'll be back".
We all assumed he meant he'll be back before the election, rather than giving a confident prediction he'll see out another five years.
He can't make that confident prediction because of places like Crewe, which is precisely why he may very well "be back" within the next two weeks.
And who knows, perhaps next time going to see him won't involve sitting at a level crossing for 20 minutes!