Liverpool Getting By report finds poor families struggling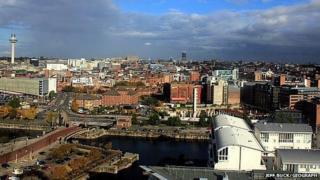 Liverpool's poorest families are suffering from falling incomes and are having to rely on charitable handouts, a city council report has found.
The Getting By report includes evidence from 30 families with at least one parent in low-paid employment.
It found they had "genuine anger about the inequalities of opportunity".
The Department for Work and Pensions (DWP) said there is "record employment" and poverty is at its "lowest level since the mid-1980s".
Liverpool mayor Joe Anderson said the experiences outlined in the report were "simply heartbreaking" and showed people were struggling with poverty that "isn't their fault".
The 164-page report, commissioned by the council's Action Group on Poverty, was presented to the All Party Parliamentary Group on Poverty at the House of Commons earlier.
Researchers tracked the families' progress for a year.
Those involved were "typical of families throughout the country", the council said, and included office workers, teaching assistants, carers, cleaners, hotel and restaurant staff and manual workers from Liverpool's "Chinese, Black British, Polish, White British and Somali communities".
The report found the families remained below the 2014 Minimum Income Standard, which the council said was the "level deemed necessary to achieve an acceptable basic standard of living".
---
The Getting By Report
The report contains testimony from 30 families and gives details of their day-to-day experiences.
Single mother-of-one Rose said there was "always a bill there and it needs to be paid, no matter what.
"By the time you get to the end of the month and you think 'Oh, there is a week free', then something else happens, and there never is, there never is."
June and John, who live in social housing, said it was "a struggle" because their four children were "growing fast".
"You find the shoes don't last. The coats, the uniforms, everything, the food... I just find it's a struggle. A loaf of bread's a pound now… and I'm thinking, 'we work, my partner works his butt cheeks off and we're always struggling'."
Carol and Ric's concerns were not just about their immediate financial commitments, but also about the future.
"We've got no savings or anything like that. We've got no insurance, no life insurance, nothing like that because it's hand to mouth, living day to day. We can't plan for the future."
---
Mr Anderson said the report was "all the more eloquent and compelling because it comes out of the mouths of those directly affected".
"It is simply heartbreaking and maddening that so many people are struggling to get by like this. It isn't their fault," the mayor said.
He said it represented "a call to action and requires all politicians to focus on alleviating the pressures on working families".
He said the city was "grappling with a 58% cut to our government grant" and while the council was "offering practical support to food banks and charities, what the working poor need is real hope".
However, the DWP said: "Our reforms mean that we've made good progress in tackling both the root causes of poverty and social mobility.
"We have a strong safety net in place and continue to spend £94bn a year on working age benefits to support millions of people who are unemployed or on low incomes."
The council said the report had been modelled on social reformer Beatrice Webb's Minority Report of the early 1900s, which argued that the poor were not the architects of their plight.