Hillsborough inquests: Police told to 'blame fans'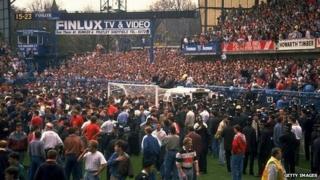 Police officers were told to put the blame for Hillsborough on "drunken, ticketless Liverpool supporters", the inquests into the disaster have heard.
Ex-inspector Clive Davis told the jury he recalled a briefing given by Ch Supt Terry Wain two days after the 15 April 1989 tragedy in Sheffield.
Mr Davis said he was told by his boss to attend the meeting as it was a good chance to get noticed "career-wise".
Two of Mr Davis' superiors dispute his account of the meeting, jurors heard.
Mr Davis said he worked as an inspector in South Yorkshire Police's research and development unit in 1989 and shared an office with his superior Ch Insp Norman Bettison.
The jury heard Mr Davis went into work on the Monday after the disaster and Ch Insp Bettison told him about the briefing due to be held later that morning.
'Discarded beer cans'
Mr Davis said Ch Insp Bettison had told him it was "the biggest thing to happen in South Yorkshire Police" and it would benefit them "to be a part of what was going to happen in the wake of it".
He told the hearing Ch Supt Wain opened the briefing, held on the fifth floor of South Yorkshire Police headquarters in Sheffield.
Mr Davis said: "His words were, and I can almost remember them verbatim, that 'we were going to put the blame for this disaster where it belongs: on the drunken, ticketless Liverpool fans'.''
He recalled Mr Wain told the meeting officers should drive along the M62 to look for discarded beer or alcohol cans.
They were also told to speak to people living near Hillsborough and owners of local licensed premises to "look at the behaviour of Liverpool supporters", Mr Davis said.
'Early conclusion'
Mr Davis said: "This was a very high-level briefing. It was, if you like, a lead-off, a start-off... I suppose it would be like a call to arms almost."
He told the hearing Ch Supt Wain had "clearly" been "given a job to do" and his orders would only have come from the chief constable .
Mr Davis continued: "It was all still very much emerging, but to me, it seemed very early to come to such a decisive, definitive conclusion.
At the time in question, he said, the force's understanding of exactly what had happened was "embryonic".
He added: "It seemed early to me to have come to that conclusion, but this appeared to be the conclusion that people had reached."
No minutes from the meeting have been found.
---
Who were the 96 victims?
BBC News: Profiles of all those who died
---
Jonathan Hough QC, who asks questions on behalf of the coroner, told the jury "no other officer" has given an account of the meeting.
Mr Davis first spoke publicly about the meeting in September 2012.
When asked why he did not raise it during the rest of his career with the force, he told the inquest: "I had no confidence, I think, that it would be properly received and properly dealt with."
He added: "My experience of South Yorkshire Police is people that raise issues and problems become the problem."
Mr Davis said it was a meeting he reflected on "almost on a daily basis".
Chris Daw QC, who represents Ch Supt Wain, said records showed his client had "nothing to do with the Hillsborough inquiry" until a week after the briefing was said to have taken place.
He suggested to Mr Davis the meeting did not happen and he was telling "barefaced lies".
Mr Davis replied: "I understand the suggestion, but I refute it."
The inquests, into the deaths of 96 Liverpool fans killed after crushing at the FA Cup semi-final tie, continues.