Hillsborough inquests: Officer took 'too long' to declare major incident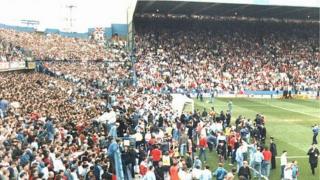 The ambulance officer who first walked in front of the terraces at the Hillsborough disaster took "too long" to declare a major incident, the inquests have heard.
Former ambulance service chief Albert Page also said the officer "had not done an adequate initial assessment".
Mr Page said he initially thought the service's immediate response was "speedy and efficient".
But he said the inquest hearings had led him to revise that view.
Ninety-six Liverpool supporters died after crushing at the FA Cup semi-final between Liverpool and Nottingham Forest at Sheffield Wednesday's Hillsborough stadium on 15 April 1989.
---
Who were the 96 victims?
BBC News: Profiles of all those who died
---
Mr Page, who was chief metropolitan ambulance officer of South Yorkshire Metropolitan Ambulance Service (SYMAS), said it was a "mistake" that station officer Paul Eason failed to speak to police at the scene and did not look into the pens where fans were injured.
Mr Eason was one of four ambulance officers based at the ground.
He and another station officer, Patrick Higgins, were there to be the "eyes and ears" of SYMAS control.
The jury has seen video footage of Mr Eason and a more junior colleague heading to the Leppings Lane terraces at about 15:04, four minutes after kick-off.
They walked in front of the pens behind the goal and then began treating a man with a suspected broken leg on the pitch.
The match was stopped by a senior police officer at 15:06. Mr Eason did not declare a major incident until 15:22 BST.
Mr Page agreed with a barrister that this was "too long a delay".
He said: "As soon as they saw a problem they should have communicated the hazard."
He added: "I think by the time it was all over, my opinion was that they had not done an adequate assessment.
"I think the weak point was activating the major incident call and the assessment by the ambulance staff at the ground, who listened to what they were being told by the police that it was a pitch invasion."
When Mr Eason gave evidence last year, the jury heard that he formed the view that the problem was one of crowd disorder.
Christina Lambert QC, who asks questions on behalf of the coroner, said: "He didn't look in to the pens, nor did he speak to anyone."
Asked his view of that, Mr Page said: "He should have spoken to somebody that had eye contact with the pens, such as police officers.
"There should have been a proper investigation, dependent on what the situation was."
'Fear and chaos'
He also criticised the decision to treat the man with the suspected broken leg. Mr Page said a fracture "is not a priority in a situation like they faced".
He added: "The first two people to attend a major incident should be there to advise and liaise and shouldn't be dealing with casualties."
He said he would have expected both Mr Eason and Mr Higgins to be "capable of taking a leadership role" and to have a "cool head in a crisis".
He continued: "I can't tell you what [Mr Eason] went through, what he was thinking - the fear, the chaos.
"A major incident - a plane falling from the sky and only having bodies there is one thing - the situation at Hillsborough was something different."
The jury heard that after the disaster SYMAS issued a statement that said the service's response to the disaster was "speedy and efficient".
Mr Page said "at the time" he agreed.
Asked when it was that his feelings had changed, Mr Page said: "Since I've been picking all this information up from these inquests."
The inquests, held in Warrington, Cheshire, are due to resume on Friday.