Plaque for Beatles manager Brian Epstein unveiled in Liverpool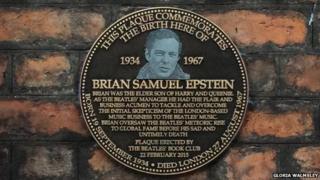 A plaque commemorating The Beatles manager Brian Epstein has been unveiled at his birthplace in Liverpool.
The memorial was erected on 4 Rodney Street where the pop impresario was born in 1934.
It was organised by tour guide Marie Darwin who said it was important to mark the birthplace of a "visionary".
It was unveiled by Watford's Viv Jones, once an employee of Epstein, who said she was "very proud" to honour "the man who made the Beatles".
John Lennon's sister Julia Baird and Jeni Crowley who was secretary of The Beatles fan club were also at the ceremony.
Epstein, born into a family of furniture retailers, yearned for a career in the arts and after failed attempts to become an actor discovered The Beatles.
He went on to manage a roster of singers and bands including Cilla Black and Gerry and the Pacemakers.
Although there is a plaque at Epstein's first London office on Monmouth Street, Seven Dials, London, Ms Darwin said there is no official plaque honouring the music mogul in his home city.
Ms Darwin said: "Brian was such a visionary. There was very little coming out of Liverpool when he spotted the Beatles in November 1961.
"He took a big step taking them to London. People laughed at him at the time but they had a record out by August 1962... and he then fought to get them to America."
She added: "It is great the [Beatles] lads have got accolades but I thought why shouldn't Brian's birthplace get recognition too for what he did in such a short time?"
---
Brian Epstein
Brian Epstein was managing the record section of his family's department store in Liverpool when he first saw The Beatles at The Cavern Club
After signing the band in January 1962 he changed their image from leather jackets and jeans to suit and ties
Despite several knockbacks he eventually persuaded EMI to sign the band
Other acts Epstein managed included Cilla Black, Gerry and The Pacemakers and Billy J Kramer and the Dakotas
He died in 1967 aged 32 caused by an accidental overdose from a sedative
---
The building on Rodney Street is now owned by Liverpool John Moores University (LJMU) and is leased by the Royal Liverpool Philharmonic.
LJMU said it was happy to give its permission for the memorial.
It said: "As the manager of The Beatles, Brian Epstein was instrumental in the band becoming the worldwide phenomenon they are still considered to be today."
A campaign called Statue4Eppy has been set up to raise £70,000 for a statue in Epstein's honour in Liverpool.
A fundraising concert is being held on Saturday at the city's Epstein Theatre when a charity single Our Friend is being officially launched.